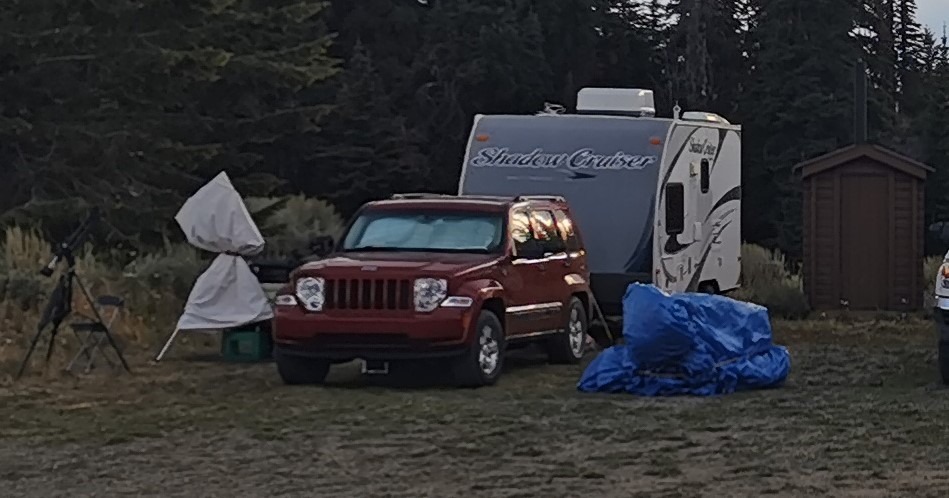 2022 Mount Kobau Star Party
Just returned from attending this event, this will mark the 4th decade in which Grace and I have attended this Star Party. From our first time in 1992 to attending it in 2006 & 2007, 2012, 2014, 2016 & 2018 & 2019. It is by far the most frequently attended Star Party by Grace and I. Also since 2014 I have served as the Webmaster for the Star Party. This was the second time that Grace and I attended with our RV, (Travel Trailer) Previously we had used a tent. RV's are more common now, however some hearty souls used a temt.
As usual when it's held this late in August, it can get cold. A couple of nights were quite cool and the heater came on. I have to admit that I did not prepare enough for the colder temperatures and I ended my observing earlier due to the wind and the colder temperatures. Note to self, don't forget the winter parka and long underwear, even if its in August.
It's a challenge in terms of maintaining electrical devices, given that there is no power up on the mountain top except what you bring with you in batteries, or generate from Solar Panels. Hooks up the solar panels and start charging the batteries as soon as possible after arrival. Take care to use electrical power sparingly. Convert the lights in the travel trailer to use LED lighting. Look for and eliminate any potential power draws. And I am told, look for a lithium battery or two. much more efficient and weigh less.
Pulling the trailer up the mountain is always a strain on the towing vehicle. Remember how to switch the transmission into 4 Low before you start up the Forestry Road to the summit to prevent overheating. Try to arrange the ascent to be earlier in the day. To assuage engine or transmission overheating.
Also as usual no internet, although the signal is better than in the past. I does not reach to all spots on the site. Arrange to utilize the US cell phone towers, or get a better cell phone.
Grace and I had a little more fun this time participating in and winning prizes for Photography and Observing. Our exploits are all documented on the Website www.mksp.ca
This item in the following Post Categories: