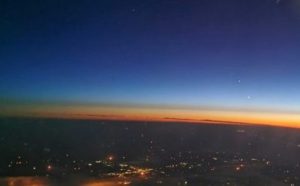 Stargazing from the window of a plane at 35,000 ft
On a recent non stop Air Canada Flight from New York City to Calgary I had this past November I was treated to a window seat for an evening of Star gazing and photography.  From the vantage point of being above the clouds, you get a really clear view of the sunset and the emergence of the Stars and Planets.  This evening it was the recent conjunction of Jupiter and Venus, with Saturn nearby that gave a real treat.  I was also able to take a few pictures with my cell phone camera to record the event.
For the first couple of hours while it was still daylight, there was not much to see, but as the airplane cleared the Great Lakes and overflew Minnesota, the planets came into view over the right side of the plane.  I must have taken over 50 images, using various settings.  But the most striking image I took was over the Bakken Oil Fields of North Dakota around Williston ND.  I have shared it below.